Mr G supported us with 2 tickets

Mr H supported us with 1 ticket

Ms S supported us with 2 tickets

Ms F supported us with 1 ticket

Mr G supported us with 2 tickets

Ms H supported us with 1 ticket
---
3d 22h 45m

21 May 2022
---
Winner! Ms F (CLEETHORPES)

Won 3 extra tickets!

Winner! Mr G (GRIMSBY)

Won 3 extra tickets!

Winner! Mr C (GRIMSBY)

Won 3 extra tickets!

Winner! Ms D (GRIMSBY)

Won 3 extra tickets!
About us
Friendship at Home is a small local charity that makes a huge positive difference to the lives of older people in North East Lincolnshire. We provide a range of activities including befriending, dementia services, social activites, exercise activities, dementia choir and tablet loan so older people can join the virtual world.
What our older people say about us
· Enjoy club very much.
· Enjoy meeting new people as new to the area.
· Calls have made a lot of difference. Nice to have someone who takes the time out to check on me.
· Can't tell you how much mum and we as a family love the volunteer befriender going. We are lucky to have her in our lives.
· The world of difference, it is the only person I see to talk to at the moment.
"Not having a good day today, a bit down, thank you for my birthday card for Wednesday it is so good of you to ring, feel so much better."
"Thank you so much for ringing, I will tell my son you called, made my day, be nice when you can visit again.
I Haven't laughed so much in ages, you have cheered me up."
Really good of you to ring it really makes a difference."
You make me feel I have something to live for after loosing my wife , I am so grateful".
The gifts are wonderful, thank you so much for not only ringing but making things special with the gifts,
We need your help so we can continue to provide this vital service for older people. Now more than ever before we need your support so that we can make a difference to the lives of older people.
Please play the Winsby Lottery and nominate us as your chosen charity, Friendship at Home will recieve a regular monthly amount as a result of your kindness
Help us share our cause on social media
How the lottery works
That's right, unlike many other lotteries, our lottery tickets are only £1 per week.
50% to your chosen cause and 10% to other causes in North East Lincolnshire.
Match all 6 numbers and you win the JACKPOT!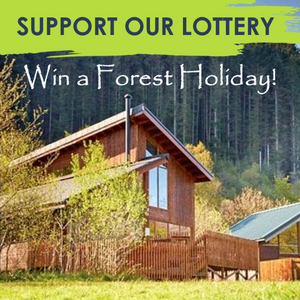 Win A £1000 Forest Holiday
Ever want to get away from it all? Well here's your chance - get your tickets before 25th June for your chance to win a fabulous Forest Holiday to the value of £1000! Choose from 12 different locations throughout the UK.